Books & Stories
Hold onto your
blood

stained cutlery…
In addition to Carole Fowkes's cozy mysteries, you will also find she writes about a supernatural world full of mayhem and scrumptious original recipes.  As Carole says, "What better way to deal with fear than to feed it?"
Three Short Horror Stories: Dark fiction about crimes committed and daring escapes from hell. You'll never think of Lucifer quite the same again.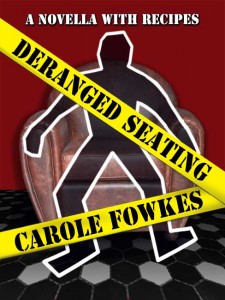 Sam Spade meets the X-files in this quirky Sci-Fi Murder Mystery complete with recipes.
This murder smells hinkier than the seven-day-old sushi in the back of James's fridge. Nothing adds up–not if you're from planet Earth. And hold on to your Maltese Falcon, there's a good-looking dame in it up to her baby blues.
Also available in paperback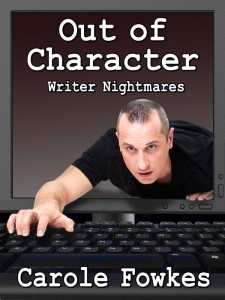 Two short stories straight from a writer's nightmares accompanied by delicious original recipes.
Out of Character – a novelist writing a gritty murder mystery is caught off guard when her villain decides to make her his next victim.
Idea Man – Lucinda's muse offers her a story she can't refuse.What lengths will a highly successful novelist go to overcome her writer's block?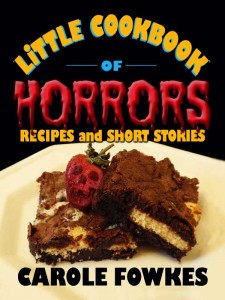 Strange tales and tempting original recipes, especially the irresistable  7 Deadly Sin Bars.
Seven for the Soul – Dr. South's fat transfer program changes a sweet-natured nurse into something else altogether.
A Losing Contract – Paula signs up for an unusual weight-loss system that promises to keep her skinny forever.
Supernatural short stories and tasty original recipes guaranteed to spice up your nightmares.
Fireplace – a young woman buys her first house, believing she's gotten the deal of the century. But the basement hides an ancient malevolence she didn't bargain for.
Hungry Beast – every night after his wife falls asleep, Tom's kitchen is invaded by a grisly, red-veined creature.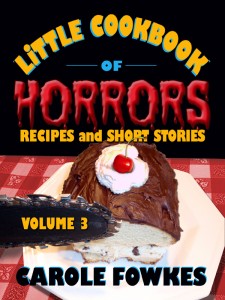 Two otherworldy short stories and heavenly recipes.
Carol Ann Nick ministers to people on the street. He approaches Carol Ann, thinking she's a hooker and he'll save her soul. But she's something much more. She's a sin eater who changes his life forever.
White Bag  Dolores  is a miserable woman, spreading unhappiness wherever she goes. But tonight, she'll be stopped in a way she could never imagine. Nor will you.